Fort Lauderdale, FL – The Bank of America Broadway in Fort Lauderdale series and presenting sponsor Nicklaus Children's Hospital, announced that an all-new tour of the iconic Tony Award®-winning musical ANNIE will play at the Broward Center for the Performing Arts Tuesday, October 10 through Sunday, October 22, 2023.  Tickets starting at $40.00* are available at BrowardCenter.org and Ticketmaster.com, by phone at 954.468.0222 or at the Broward Center's AutoNation Box Office located at 201 SW Fifth Avenue, Fort Lauderdale, FL. 33312. Orders for groups of ten (10) or more can be purchased by calling 954.660.6307.
Holding onto hope when times are tough can take an awful lot of determination, and sometimes, an awful lot of determination comes in a surprisingly small package. Little Orphan Annie has reminded generations of theatergoers that sunshine is always right around the corner, and now the best-loved musical of all time is set to return in this new production – just as you remember it and just when we need it most. This celebration of family, optimism and the American spirit remains the ultimate cure for all the hard knocks life throws your way.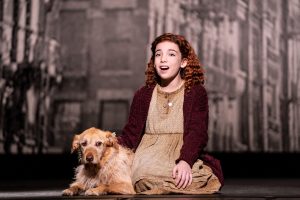 Ellie Pulsifer as Annie and Addison as Sandy in the 2022 company of ANNIE. Photo credit_ Matthew Murphy and Evan Zimmerman for MurphyMade
Hailed by the Chicago Tribune as, "one of the best family musicals ever penned!", ANNIE features a book by Thomas Meehan, music by Charles Strouse and lyrics by Martin Charnin. All three authors received 1977 Tony Awards® for their work.
"This show, with its iconic title character, continues to delight generations of theatre-lovers old and new by joyfully singing directly into the face of great adversity with perseverance, guts and guile," says director Jenn Thompson. "For decades, ANNIE has continued to shine brightly, not only as an appeal to our better angels, but also as an example of the thrill of hope, hard-won: promising a better 'Tomorrow' not only for Annie herself, but for all who need her message now more than ever."
ANNIE is directed by Jenn Thompson, who at the age of 10 stepped into the role of "Pepper" in the Original Broadway production, choreographed by Patricia Wilcox (Motown, A Night with Janis Joplin), with orchestrations by Dan DeLange. Talitha Fehr is the Music Coordinator and Elaine Davidson is the Music Director.
The 2022 company of ANNIE. Photo credit_ Matthew Murphy and Evan Zimmerman for MurphyMade
The design team includes scenic design by Wilson Chin (Pass Over), costume design by Alejo Vietti (Jersey Boys), lighting design by Philip Rosenberg, sound design by Ken Travis (Disney's Aladdin), hair & wig design by Ashley Rae Callahan and casting by Paul Hardt of Hardt Casting, LLC.
The lovable mutt "Sandy" is once again trained by Tony Award® Honoree William Berloni (Annie, A Christmas Story, Legally Blonde).
This new tour of ANNIE is produced by Crossroads Live.
By permission of Tribune Content Agency, LLC, ANNIE is based on Harold Gray's popular comic strip "Little Orphan Annie" which premiered in the 1920s in the New York Daily News and became one of the most widely read strips in the '30s and '40s. Lyricist Martin Charnin bought a coffee table book called "The Life and Hard Times of Little Orphan Annie" as a Christmas gift for a friend in 1970. The clerk at the bookstore was too busy to wrap the book, so Charnin took the book home to wrap it. Instead, he read it and fell in love with the strip and set out to secure the rights. The friend never got the book.
The original production of ANNIE had its world premiere on Aug 10, 1976 at the Goodspeed Opera House (Michael J. Price, Executive Director) and opened on Broadway on April 21, 1977 at the Alvin Theatre (Neil Simon theatre). It went on to win the New York Drama Critics Circle Award for Best Musical, seven Drama Desk Awards including Best Musical, the Grammy for Best Cast Show Album and seven Tony Awards including Best Musical, Best Book (Thomas Meehan) and Best Score (Charles Strouse, Martin Charnin). It closed on Broadway after playing 2,377 performances.  ANNIE was revived on Broadway in 1997 and again in 2014. It has been made into a film three times (1982, 1999, 2014) and was most recently featured as a live television production on NBC. The show remains one of the biggest Broadway musical hits ever; it has been performed in 28 languages and has been running somewhere around the world for 45 years.
The beloved score for ANNIE includes "Maybe," "It's the Hard Knock Life," "You're Never Fully Dressed Without a Smile," "Easy Street," "I Don't Need Anything But You" and the eternal anthem of optimism, "Tomorrow."
This production of ANNIE was licensed by Music Theatre International.
For more information, visit AnnieTour.com and follow the show on Facebook, Instagram and Twitter.
*All programs, artists, ticket prices, availability, dates and times are subject to change without notice. Additional fees may apply. Visit www.BrowardCenter.org  for up-to-date information, details and performance schedules.
The Bank of America Broadway in Fort Lauderdale 2023/2024 season is made possible with the generous support of title sponsor Bank of America and presenting sponsor Nicklaus Children's Hospital. Bank of America Broadway in Fort Lauderdale is presented by Florida Theatrical Association in partnership with the Broward Center for the Performing Arts.  The Broward Center 2023/2024 performance season is supported by the Broward Performing Arts Foundation.
The Broward Center for the Performing Arts is one of America's premier performing arts venues, presenting more than 700 performances each year to more than 700,000 patrons, showcasing a wide range of exciting cultural programming and events. Guest experiences at the Broward Center include the all-inclusive Spirit Club Level, the UHealth University of Miami Health System Intermezzo Lounge, special events in the Huizenga Pavilion, waterfront dining at Marti's New River Bistro and innovative classes and workshops for all ages at the Rose Miniaci Arts Education Center. With one of the largest arts-in-education programs in the United States, the Broward Center serves more than 130,000 students annually. The Broward Performing Arts Foundation, Inc. receives and maintains funds to sustain, develop and secure the future of the Broward Center. The Broward Center for the Performing Arts is located at 201 SW Fifth Ave. in Fort Lauderdale. For more information, visit BrowardCenter.org. #browardcenter #broadwayinbroward
Broadway Across America (BAA) is part of the John Gore Organization family of companies, which includes Broadway.com, The Broadway Channel, BroadwayBox.com, Group Sales Box Office and Broadway Brands.  Led by 20-time Tony-winning theater producer John Gore (Owner & CEO), BAA is the foremost presenter of first-class touring productions in North America, operating in 48 markets with over 400,000 subscribers. Presentations include Disney's The Lion King, Wicked, The Book of Mormon, and Hamilton. Current productions include &Juliet, Hadestown, Hamilton, Kimberly Akimbo, MJ: The Musical and Moulin Rouge! The Musical.
The John Gore Organization is the leading presenter, distributor, and marketer of Broadway theater worldwide. Under the leadership of 20-time Tony-winning theater producer and owner John Gore, its family of companies includes Broadway Across America, Broadway.com, The Broadway Channel, BroadwayBox.com, Group Sales Box Office and Broadway Brands. The company presents shows in 48 cities across North America as well as on Broadway, Off-Broadway, London's West End, Japan, and China. It has won Tony Awards in every producing category as well as numerous other Drama League, Drama Desk and Olivier Awards.  The John Gore Organization is committed to supporting theater access and education programs that introduce Broadway to the next generation of audiences and theater professionals.
Florida Theatrical Association – the non-profit presenter of Broadway in Orlando, Fort Lauderdale and Miami – was founded with the charge of educating and developing new theater audiences and encouraging and preserving the presentation of touring Broadway theater. Since 1989 Florida Theatrical Association has presented over 1,050 Broadway performances and distributed over $1.6 million in scholarships and grants to arts organizations across the state of Florida.
Bank Of America Corporate Philanthropy
At Bank of America, our focus on Environmental, Social and Governance (ESG) factors is critical to fulfilling our purpose of helping make people's financial lives better. Our commitment to growing our business responsibly is embedded in every aspect of our company. It is demonstrated in the inclusive and supportive workplace we create for our employees, the responsible products and services we offer our customers, and the impact we make around the world in helping local economies thrive. An important part of this work is forming strong partnerships with nonprofits and advocate groups, such as community and environmental organizations, in order to bring together our collective networks and expertise to achieve greater impact. Learn more at www.bankofamerica.com/about  and connect with us on Twitter at @BofA_News.
 Nicklaus Children's Hospital
Founded in 1950 by Variety Clubs International, Nicklaus Children's Hospital is South Florida's only licensed specialty hospital exclusively for children, with nearly 800 attending physicians, including more than 390 pediatric subspecialists. The 309-bed hospital, known as Miami Children's Hospital from 1983 through 2014, is renowned for excellence in all aspects of pediatric medicine with many specialty programs routinely ranked among the best in the nation by U.S. News & World Report since 2008. The hospital is also home to the largest pediatric teaching program in the southeastern United States and has been designated an American Nurses Credentialing Center (ANCC).